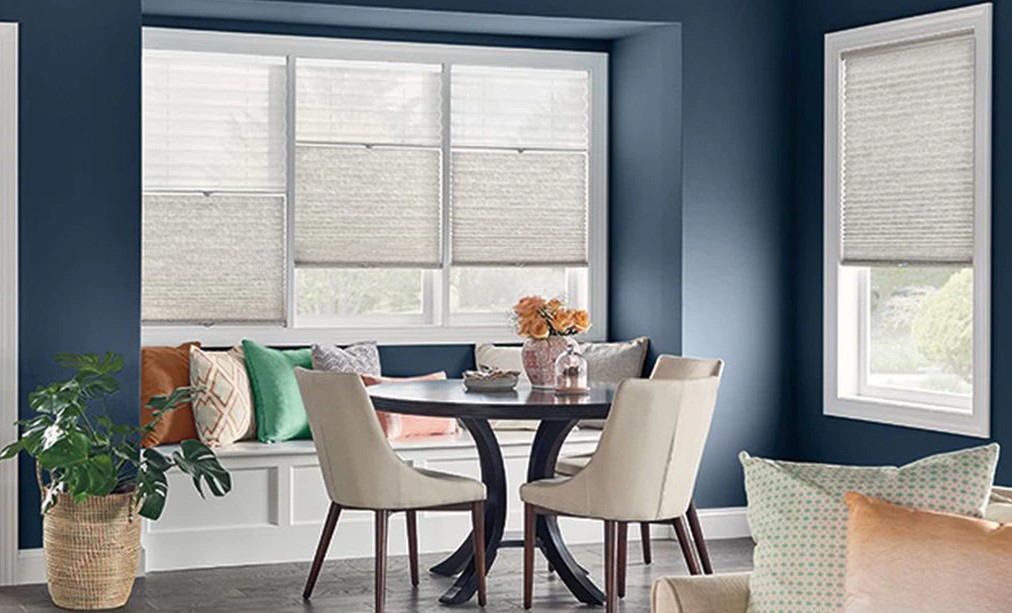 Windows are an essential feature of the home. It is an architectural feature connecting the home to the outdoor environment. It is an inlet for fresh air and light to come into the house and also helps with controlling unfavorable temperatures. However, it's also an outlet for air to escape the house, allowing you to consume excess energy to cool or heat your home.
The Department of Energy in the US claims that air leakage through the window amounts to about 25% of the total annual cost of cooling and heating, and in older homes, the price can rise to about 40%. The reason for this is that most windows are poorly insulated, and this leads to extra costs.
You can avoid these expenses by investing in energy-efficient window coverings. Energy-efficient window coverings can reduce your home's energy loss through the window, which reduces the costs of cooling and heating and improves your home's comfort.
There are several types of window coverings or treatments, which will help you save energy. However, the amount of energy saved depends on the kind of cover, the climate, seasons, and how you use the attachment.
In this article, we discuss some of the best window coverings for energy efficiency.
Window Quilts
This type of window attachment is quilted materials that you need to roll to open and unroll to close. It typically fits snug against the trims with tracks or with attachments like snaps or Velcro. The snug on this material allows it to offer an R-value increase similarly to cellular shades, and they don't cost much either.
Roman or Roller Shades
Roman shades are a type of fabric window shade drawn into several folds that are evenly stacked when it is lowered or raised. At the same time, the roller shade is the inexpensive shade lowered or raised from a roller bar that's towards the window top. Typically, these shades fit into the window casing and can also be placed outside. They are also made in different varieties of colors, weaves, and fabrics. Typically, the heavier materials perform slightly better thermally. However, roman and roller shades generally only give a tiny amount of insulation. So they're more practical for room darkening, privacy, and blocking sunlight.
Window Blinds
These – may be horizontal or vertical slat-type – are more effective for reducing the heat gain during the summer than reducing the heat loss during the winter. These blinds have slats with numerous openings, so controlling heat loss through the interior window covering is more complicated. However, there's more flexibility from these slats during summer. In addition, these slats can be adjusted to control solar heat gain, light, and glare, unlike shades.
A highly reflective window blind can reduce heat gain when it is completely lowered and closed on sunny windows. You can also adjust the horizontal slat-type window blinds to block direct sunlight or reflect it to a light-colored ceiling that will diffuse the light without glare or much heat so you can take advantage of the natural daylight.
External Shutters and Shades
These are mostly made from several materials such as fabric, aluminum, steel, vinyl, or wood and are most effective at reducing solar heat gain in the house.
Shades are mostly vinyl or fabric, and these materials have some openings to give a level of visibility through the windows. If it has large openings, then it will protect less from solar gain. These materials are operated manually, although a few can be closed or opened through a crank from inside the home.
Roller shutters are mostly mounted over the window, with the side channels serving as guides when they're raised or lowered. When these blinds are completely lowered, the slats meet to give shade, security, protection, and privacy. However, when they're raised partially, the blinds allow daylight and air through the windows.
Exterior Solar Window Screens
These solar screens reduce glare, UV damage, and solar heat gain. You can either install them on the exterior as fixed panels or roller shades or the interiors. They typically allow light transmission and outside view of the window. They're similar to the regular insect screens, except that they give more in terms of efficiency.
Solar screens have an openness factor that varies and also affects their efficiency. For example, more openness leads to less protection against solar heat gain and glare but increases light transmission and visibility.
Conclusion
Window coverings are essential for many reasons, which include privacy and energy efficiency. Although there are many types of window coverings, this article points to some of the best window coverings for energy efficiency.