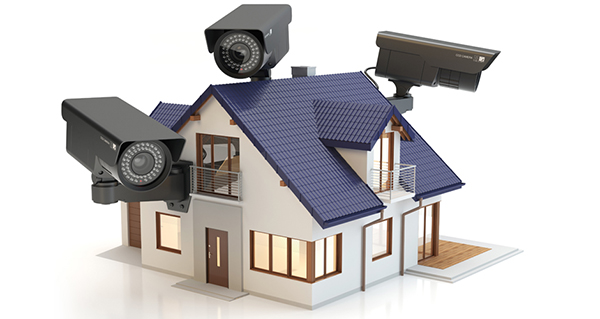 Owning a home is the American dream. A home invasion is an American nightmare.
The latest FBI crime statistics show that burglaries are far too common. In 2016 alone there were 1,515,096 burglaries reported to law enforcement. Most occur when people aren't at home, but a burglary can still be very scary.
Homeowners may be more concerned about security, but they also have more ways to protect their homes than ever before. Technology has changed the way we monitor our homes, prevent break-ins and alert the authorities if the worst were to happen.
There are so many new home security devices and virtual tools on the market it can be hard to wade through it all. Below is a quick overview of some home security technology that every homeowner should know about:
Rescu Emergency App
Getting help the second you need it can be life-saving. That's exactly what the Rescu Emergency App is designed to do. With just two taps on your phone, you can connect to local police, fire and medical first responders.
With Rescu you don't even need to talk, which may be difficult in some emergency situations. Conversations that can sometimes be confusing and cost time are eliminated because the app sends the first responders your location. It will also alert your emergency contacts as well. Setting up this vital service in advance can save valuable seconds when you need them most.
Ring Neighborhood Social Network
Another app that's helping protect homes is the Ring Neighborhood social network. Ring was one of the first smart doorbells to incorporate a security camera. The device makers decided to expand one of the doorbell camera's features, which is how the new Neighborhood network was born.
The Neighborhood social network allows Ring owners to share their recordings of package thefts and suspicious activity with other people in their local group. In some areas, the local police department is also joining groups to analyze the videos and send members alerts. The idea is to share information with your neighbors so everyone knows to be on the lookout.
Nextdoor Social Network
Another social network you'll want to join is Nextdoor. The free network is semi-private. Only people who verify they live in a neighborhood can join their specific Nextdoor group.
Members can share a lot of information with other Nextdoor groups, including crime information. Using the Nextdoor website or app you can share details or help out if a neighbor has an emergency.
Wi-Fi Connected Door and Window Sensors
We've discussed window and door security in the past by choosing certain materials and design features. However, there's another high-tech step that can be taken to make windows and doors even safer.
Wi-Fi connected motion sensors can be installed on windows and doors to send an alert any time movement is detected. That means if someone tries to open them or break through them you'll instantly get a text message and/or email letting you know where the activity is detected. They work whether someone is trying to get in from the outside or vice versa.
Wi-Fi Connected Cameras
Take your security to the next level with Wi-Fi connected cameras. Connected security cameras go beyond capturing surveillance footage that identifies the criminals if a break-in occurs.
These cameras come with two distinct advantages. First, you can receive immediate alerts if the camera detects motion. If no one is supposed to be there you can alert the authorities so they dispatch someone to your home. Another feature many connected security cameras have is the ability to view the camera footage remotely in real time from a phone, tablet or computer. Finally, new cameras are also beginning to incorporate speakers that allows you to hear what's happening and speak through the camera.
Biometric Door Locks
Traditional locks can become a liability if you lose your keys or someone is able to find a key you've hidden. Even locks that use a code can pose a problem if an outsider learns the pin.
The solution – biometric door locks. These high-tech devices have a sensor built into the doorknob that can detect dozens of fingerprints. Set up the fingerprints for each family member and it will act like a password that unlocks the door. The doorknob will also collect data about who has entered the home and when they arrived.