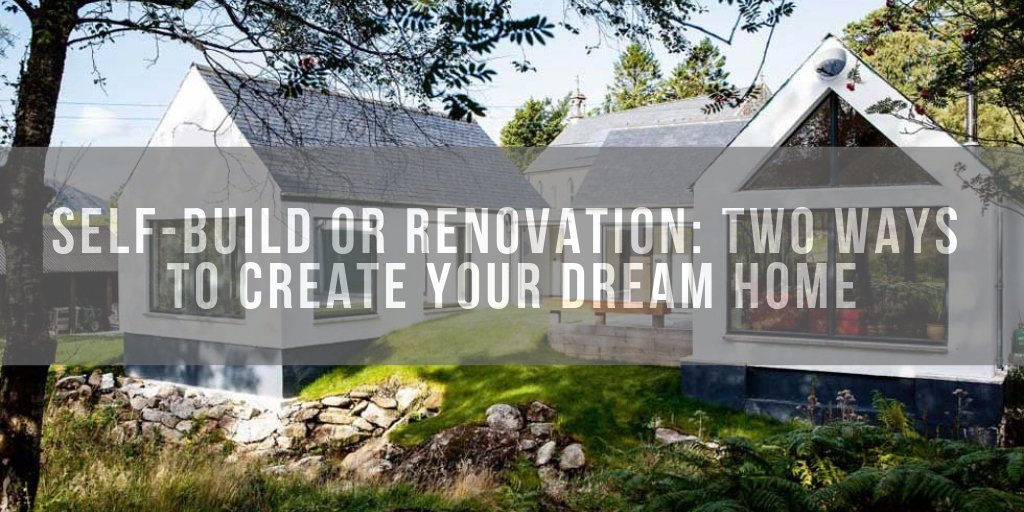 Self-Build or Renovate: Which should you choose?
Imagine building your perfect home – designing and putting it together exactly as you wanted it, down to every last detail.
Research shows that more than half the population would love to do this. And it doesn't have to just be a dream. Around 12,000 families in England now build their own homes each year – between seven and 10 per cent of new housing. The UK also has 216,000 homes which have been empty for six months or more – prime targets for renovation.
Both options essentially give you a blank canvas on which to paint the home you want – so here are some things to think about before deciding which option to go for.
Land ahoy!

If you're going to build your own home from scratch, you'll need some land to put it on – and that can be one of the most difficult parts of the project. It's not unusual for it to take more than a year to find a suitable plot.
Most viable plots will already have full or outline planning permission, as this massively increases their value. Our advice is usually to steer clear of plots without planning permission, as if you subsequently find you can't get permission, you won't be able to build. Alternatively, make an offer conditional on planning permission being obtained – outline planning permission costs £462 per 0.1 hectare (1,000 square metres).
If you're renovating a home, obviously this won't be an issue, but you must get a survey done on any property you are thinking of buying at an auction before you bid for it. This isn't a legal requirement, but for your own good – a run-down property can have serious underlying problems, and a successful bid at auction is legally binding.
In England, some agricultural and commercial buildings can now be converted into homes without planning permission – although you'll still need to notify your district and borough council of your intentions and meet a range of conditions, so it's kind of planning permission by another name.
In both cases, there are plenty of online resources to help you, like Rightmove and Buildstore PlotSearch; and estate agents and architects are obvious ports of call. Bluelime Home Design, a firm of architects in Bromley, Bexley and Dartford, have plenty of helpful information on their website.
Inside story

While self-build homes are constrained only by your budget and the laws of physics, you don't have quite the same freedom with renovations, as the foundations and external walls are already there. On the plus side, that means less work and less expense – and you can usually still reconfigure the internal layout if you want to and, subject to planning permission, extend the property. Plus, a renovated period home will have an original elegance and charm which no amount of sympathetic modern design can ever completely recreate.
If the property is in a conservation area, you won't usually need planning permission for internal alterations unless they involve substantial demolition, but you should always check. If it's a listed building, you will need listed building consent for most work on the interior (though probably not planning permission – they are two different things) and it is actually against the law to go ahead without it.
So if you're considering a self-build or renovation, get in touch with a reputable architect to talk through the possibilities and always make sure you have the correct permission.
Related Posts