According to the Entrepreneur.com, the U.S. Census Bureau reports that more than 40 million Americans move each year, and although an exact count of the number of businesses that relocate isn't collected, the Bureau projects that many of those moves can be attributed to businesses as well as individuals and families. There's no doubt that relocating can sometimes prove profitable for your business, and there's various reasons why a business owner might choose to move his or her office. Regardless of the reason why you're moving, though, moving is a process that can be a hassle. Keeping a few tips in mind can help you make the transition smoother.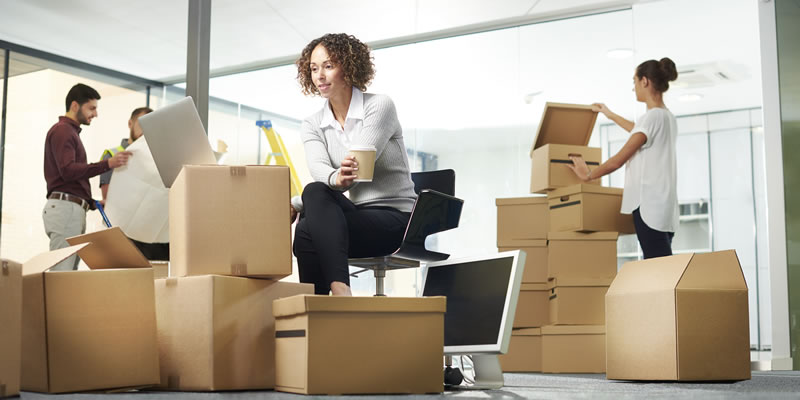 Hire Professional Movers
Let's say you're moving your business office from Tallahassee to Nashville. The physical process of moving office equipment can be arduous and even dangerous. Not only could you physically harm yourself, but if you solicit the help of any of your employees and they harm themselves, then you could be facing a lawsuit. According to Common Good.org, more than 15 million civil cases are filed in the U.S every year. You can bet that some of those cases include ones where workers file against their places of employment for injuries they incur while on the job. Not only could hiring professional movers help prevent you from hurting yourself, but it could eliminate the possibility that any of your employees get injured in helping you move, which could lead to them suing you, costing you more money in the long run.
Plan Ahead
Business movies tend to take longer than home moves, so it's essential that you begin planning for your move ahead of time. In addition to hiring a moving company to handle the physical side of the move, you'll also have to deal with moving human resources, financial accounts and possibly more, depending upon how far you plan on moving your office. Smart business owners begin planning their business moves at least six months in advance, and some larger corporations might need up to two years of planning before making a move.
Determine Whether You Need a Moving Manager
Unless you plan on enlisting the services of a full-service mover that is willing to take care of every detail of the moving, from the preparation and packing to the setting up of the physical move into the new building or location, you'll need a moving manager. A moving manager is the person whose sole duty is to oversee all details of the move. This person is the one who will arrange the move-in date with the new location. Just as important as setting your move-out date with your old building is setting your move-in one with the new one. Oftentimes, business complexes have to make special accommodations in terms of parking and so on for a move-in, so it's essential that the move-in date is planned as meticulously as the move-out date.
Moving your office doesn't have to be a hassle. These are just a few of the considerations you need to consider to make your move easier. A good moving company especially can help save you many headaches.