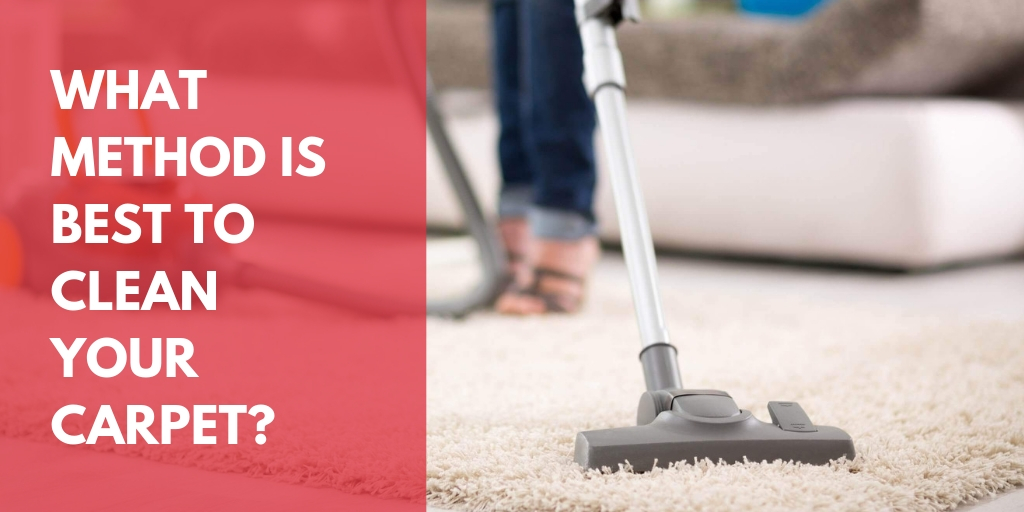 There are several different ways a professional carpet cleaner can clean your carpet and there's pro's and con's to each method. This article will help you determine which cleaning method is best for your carpet.
The two main types of professional carpet cleaners in Auckland are either dry cleaning or wet cleaning. Dry carpet cleaning uses no-moisture whereas wet carpet cleaning uses water or steam, known as hot water extraction.
Dry cleaning
Even though it uses a little water, dry cleaning a carpet is often referred as surface cleaning. This is a convenient method for commercial carpets or high traffic areas that need a fast drying time so they can be used again quickly. This is not the most thorough method available, but it can work well for maintenance cleans.
Dry cleaning with absorbent compounds works by first spreading a special powder with cleaning agents and solvents in it over the entire carpet.  The powder is then worked it the carpet fibers with a hand tool or machine that has  rotating brushes. The grime and soil in the carpet is literally dissolved and absorbed by the powder.  After waiting for ten or fifteen minutes of setting time, the powder mixture is then vacuumed up using a powerful vacuum.
Pros of Dry Cleaning
Simple to do cleaning that doesn't require much technical training
Dries quickly. The whole process only takes around twenty minutes
Carpets can be used again as soon as the cleaner leaves
Cons of Dry Cleaning
Powder may not dissolve tougher stains or some types of carpet soiling.
The powder can sometimes not get sucked up by the vacuum leaving residues.
This method does not clean deep into the carpet
Without steam the carpet isn't being truly sterilized, only cleaned.
Wet Cleaning
Wet carpet cleaning uses hot water extraction, also known as steam cleaning. Steam cleaning kills bacteria and reaches deep into the carpet fibers.
The first step is applying an encapsulating pre-spray to the carpet. This helps to dissolve soil and oil-based stains and separate them from the carpet fiber. The extraction machine then sprays steam mixed with a powerful cleaning solvent into the carpet and quickly sucks it back up along with all the dirt and mess.
The best steam cleaning machines are truck-mounted. The power of the truck-mounted unit is second to none and should be used for the best possible cleaning.
Pros
Steam cleaning reaches deep down into the carpet
Liquid cleaning solvents get better coverage of the carpet pile
Most carpet manufacturers recommend this method of cleaning
Cons
It takes a longer to dry than powder methods. Although a competent technician can reduce this time to just a few hours.
Maximum results require skilled technicians and using expensive equipment
Carpet Cleaning Problems
Problems can arise whether you have your carpet cleaned professionally or you do it yourself. These problems can include:
A musty odour from aged carpet or the growth of mold from left over moisture
Over wetting carpet can lead to browning watermarks and stains.
Cracking or shrinking can occur in extreme case.
Extend The Life of Your Carpet
Deep cleaning your carpet every 121-18 months will extend the life of your carpet for years. To get the most out of your professional clean be sure to do the following.
Remove debris weekly by vacuuming so it can't damage the carpet fibers.
Make sure to do spot removal on any new marks and stains using hot water and cloth.
Before the cleaners arrive remove everything you can off the carpet.
Avoid store bought carpet stain removers. These often bleach carpet.
Conclusion
Your carpet is the one of the first things people will see when they first walk in your home or office.
Whether you use a professional carpet cleaner, or rent a machine from your local supermarket how  you clean the carpet is a personal choice.  No matter what you choose, always do your research on the company you choose and check their online reviews. Paying a little extra for professionals like KLEVER Carpet Cleaning is well worth the money when it comes to maintaining your carpet and making sure they last for many years to come
Related Posts