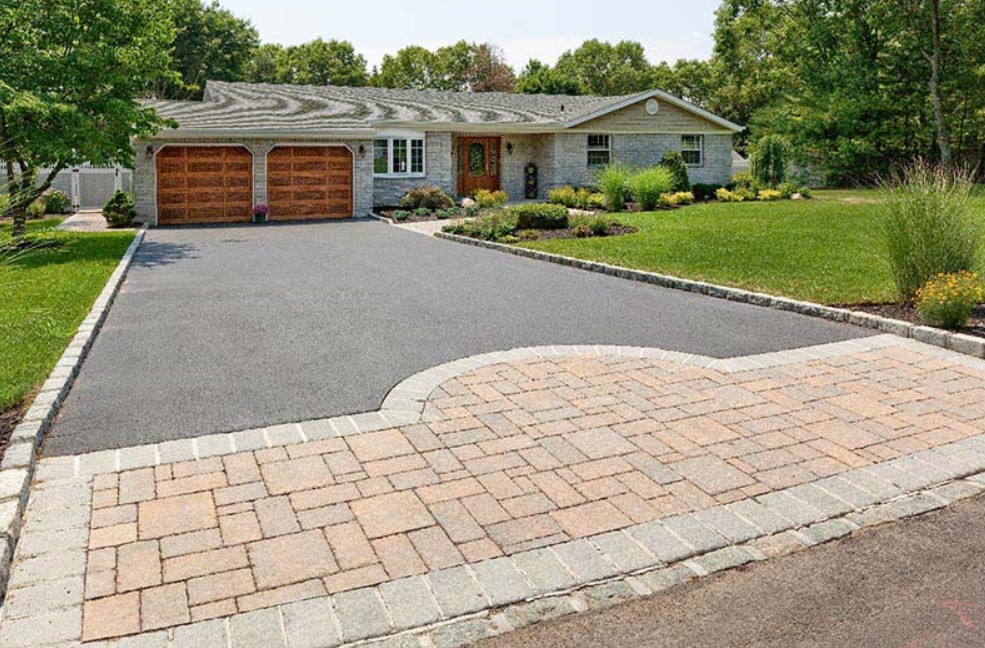 Because most driveways are private properties, homeowners have the opportunity to stylishly customise them in ways that enhance the overall appearance of their homes. However, we often focus on beautifying the main structure while we ignore the pathway leading up to it; your driveway deserves as much attention as the entrance to your home.
It doesn't have to be over-the-top. A few touches here and there could go a long way in giving your driveway its much-needed facelift. So, whether you require a total renovation or a simple enhancement, here are seven design options to transform your driveway into the envy of the whole neighbourhood:
1. Asphalt
Asphalt is a very durable option for driveways. Unlike concrete, asphalt does not flake on the surface, and its lustrous dark hue provides a neat finishing that is sure to compliment your home. It is easy to lay and can be completed in a day or two, depending on the size of your driveway. In addition, its black colour attracts and retains heat which helps melt snow relatively fast in winter. Also, you don't have to worry about maintenance, as asphalt driveways are easy and inexpensive to take care of.
2. Cobblestone
Paving your driveway with cobblestones adds an old-fashioned yet stylish flair to your home. It is available in different colours and can be installed in unique patterns to suit your style and personality. Apart from the charm, cobblestone driveways also provide some practical benefits, known to be extremely strong. They can easily support the weight of heavy vehicles over a long period without maintenance. Additionally, cobblestone is very durable. Its durability is evident in the cobblestone roads scattered across Europe that have withstood the test of time.
3. Gravel
A gravel driveway will add a textured appearance to your home. In addition to this aesthetic, there is a wide range of gravel options to choose from, so you can select whichever layout is best for your home. You might want to check out the river rock gravel; its smooth and colourful stones make it a homeowner favourite. Gravel is also pocket-friendly, so you don't have to break the bank to get it installed. However, gravel can easily be displaced, so it is not ideal for snow ploughing or scraping.
4. Stamped Concrete
The main attraction of concrete is its versatility; it has made concrete driveways very popular. Concrete driveways can either be paved simply or elaborately embellished. With stamped concrete, various decorative patterns can be imprinted on the concrete in different colours to replicate glossy stone pavements. A stamped concrete driveway is pretty expensive. You may have to spend more money getting this driveway compared to other options on this list. Also, the maintenance of a stamped concrete driveway can be a little tasking considering how concrete is prone to surface flaking.
5. Brick
Brick driveways are expensive to install, but the elegance they add to your home makes them worth every dime. Bricks do not fade easily and are known to maintain their colour even in extreme weather. The texture of bricks also makes them slip-resistant, which means you won't have to worry about tripping on your driveway when it is wet. Their slip-resistance makes this driveway ideal if you live in a wet climate. Additionally, brick pavers are highly durable. They do not crack easily and can withstand the weight of a heavy vehicle.
6. Grass
A grass driveway will give you an aesthetic that beats every other driveway on this list. It uses an interlocking grid system that evenly distributes the weight of vehicles and additional load over the underlying surface. In addition to being very easy to install and affordable, grass pavers are also eco-friendly, allowing water to permeate into the ground and reducing the risk of flooding.
7. Shells
Shell driveways are becoming very popular, and if you are a sea lover, this might be the right choice for you. Used as an alternative to gravel, shell driveways are less expensive and paved with crushed clams, oysters or, scallops, ranging from off-white to greyish-brown. It should be noted, however, that this driveway is not suitable for walking barefooted.
An unkempt or dull driveway can reduce your home's appeal and leave your guests or neighbours with a wrong impression; give your driveway the makeover that suits both your budget and your preferred style. Paying attention to your driveway can also help prolong the lifespan of your tyres. You should choose a driveway design that complements your home while requiring less on the maintenance front.