How to clean a kitchen fast? This is not some trivial question. Many of us want to have our household activities done as quickly as possible. Because why should we spend a lot of time on cleaning, when by using some tips we can have it done within 15 minutes or less?
Indeed. How to save your time? How to clean your kitchen fast? This article will explain how you can have your kitchen looking like new and ready for use, even when it took only a short amount of time. It's actually very simple. It's enough to remember a few simple rules.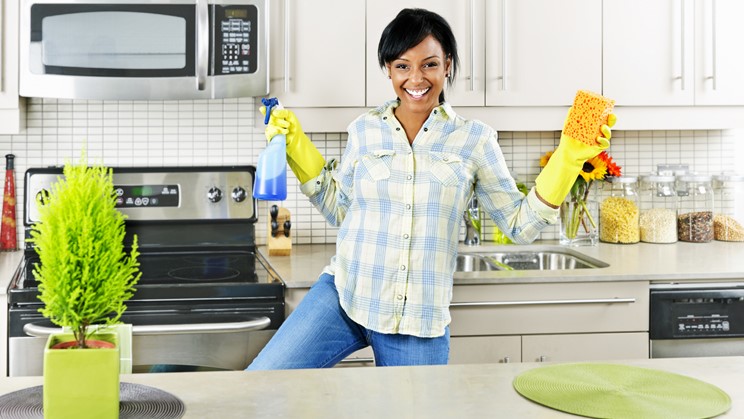 Have your cleaning supplies (or a supply) close at hand
How to clean kitchen quickly? Short cleaning means good preparation. This is the first necessary step to clean quickly. You should have the detergents you need close at hand. What will you need?
Of course, you can have a variety of cleaning products dedicated for specific surfaces – worktops, sinks, stovetop. Each of them is covered with a different type of dirt we want to get rid of. But why spend a lot of money when there are effective and all-purpose detergents available on the market?
Such solutions are made just to make our life easier. By equipping yourself with a product such as 100 % natural kitchen cleaner you can clean a whole kitchen using only 1 detergent. It sounds like savings, doesn't it? All you need else is a microfiber cloth. Now you're ready for express cleaning.
How to clean a kitchen fast – step by step?
Does your kitchen need to be tidied up quickly after cooking? What's the best way to start your express kitchen cleaning?
Get rid of rubbish. Collect all empty packages and bottles. Their place is in the garbage can.
Are there dirty plates on the kitchen worktop? Are there dirty pots on the stove top? Get rid of unnecessary leftovers. If something else is edible – don't waste food. Put it in the fridge for later.
If you have a dishwasher, put dirty dishes in it. If not –  pots with stubborn dirt, pour warm water in the sink and give them some time. Go to the next step yourself.
It's time for worktops and fronts and cupboard handles. Wipe off any crumbs and dirt using a microfiber cloth and your cleaning agent. Also remove dust from smaller kitchen appliances.
Now switch into cleaning your stove. Remove the grease and all cooking residues from it.
Quickly vacuum the floor, because some dirt is definitely on it – we don't want it to spread throughout the house.
It's time to wash the dishes that were waiting for us in the sink. After that, it's a good idea to wipe the sink by using a detergent and a cloth – let it shine!
If the condition of the floor requires it, you can mop it.
Take out the rubbish you collected at the beginning of your express clean-up.
Go for a well-deserved rest. Your kitchen is sparkling, and you have spent no more than 15 minutes on it!
How to clean a kitchen fast? As it turns out – very simple! Thanks to this type of quick cleaning, you'll keep the kitchen clean for longer and minimize the need for frequent, thorough and time-consuming cleaning.
Related Posts