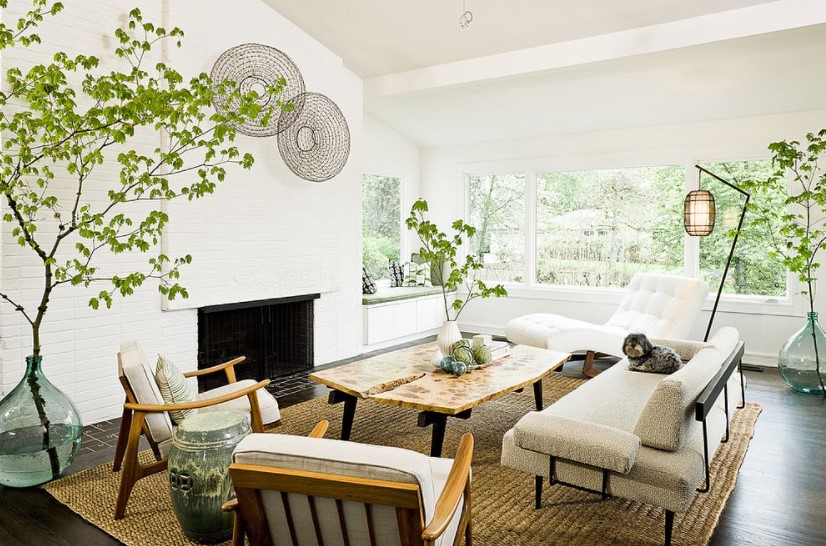 Do you believe that people today have lost connection with the world of nature? We've always tried to make our lives easier and more pleasant, yet we've always lived in nature, surrounded by trees, water, insects, flowers, and animals. Unfortunately, in our need to feel protected, we appear to have gone too far, and nature now appears too foreign and remote. However, many are now realising that and feeling the need to connect with nature. That is why there are new designs and concepts coming in. One of them is biophilic design.
The term "biophilic design" refers to the incorporation of nature into the design process. Natural elements such as light, plants, natural materials, natural colours, natural shapes, and animals are all part of it. This design is based on the belief that any space should be combined with natural components in order to provide the maximum benefits to a person's well-being.
While architecture is widely regarded as a perfect blend of art and science, the science component is frequently disregarded. Biophilic design, on the other hand, has reintroduced science and melded it with design since it largely depends on evidence and study to assist us to find the best ways to build places that are in harmony with nature.
In this blog, we'll try to list down ways in which you can achieve Biophilic Design.
Natural Architectural Styles That You May Like
The Mediterranean:

In Europe, Latin America, and even the United States, the Mediterranean style (or Mediterranean Revival) is very popular. It is commonly found in beach houses, huge spaces and palaces, and it invokes both wind and soil components. If you have the right place for this kind of architecture, you should definitely consider it as a legit option.

The American Craftsmanship

: When you talk about the American craftsman style, sometimes stone is used for the interior decor, and the homes are recognised for their "simplicity of form, local natural materials, and visibility of workmanship". Bungalows are also made of wood.

Farmhouse Style:

Typically, tall and narrow windows with broad porches, wood siding, and possibly a metal roof are put out for cross breezes as part of this style. You can very well

use wall tiles

with any of the aforementioned styles. They complement these styles and will be a perfect option for your biophilic design.
Natural Elements You May Prefer
Embrace The Power Of Plants:

People often flock to their nearby botanical garden or go for a hiking trip to immerse themselves in nature after a hectic week. Why not bring the calming properties of emerald escapes inside your home? Plants not only offer a green pop to your design scheme, but they also remove toxins from indoor spaces, re-oxygenating your home.

Bring Natural Wood Furniture:

Wood furniture is one of the most popular because it is long-lasting, attractive, and can be polished in any way. If you prefer a rustic and country design for your interiors, look at artisan-crafted furniture, or vintage wood furniture for the bedroom and the living room to relive the nostalgia of early 20th century homes. If your furnishings are more contemporary, wood furniture with clean lines and little adornments, such as bar stools in the kitchen or a sleek headboard in the bedroom, can make a statement.

Breezy Bathroom:

A beautiful element that you can add to your bathroom's decor is wooden look tiles. The wooden look has been one of the go-to options when it comes to decor. However, the bathrooms were always a place where wooden looks didn't work as much as they worked for the other spaces, for obvious reasons. Moisture is not good for wooden interiors. But that problem has been solved with wood-look tiles coming into the scene. Now, achieving a wooden look in bathroom spaces is possible. If you're on the lookout and want to give your bathroom the classic look of wood, you can check the wooden tile collection that comes with many options. When it comes to bathroom tiles and tile designs like wooden, stone, etc will be perfect options if you want to achieve the biophilic design. Nowadays, the tiles are anti-virus and anti-slip which is an added benefit when it comes to

tiling the bathroom

.
Don't Take The Light Factor Lightly
Sunlight is one of the easiest, cheapest, and most attractive natural components that many people overlook. Natural daylight can bring a space to life, bringing out the colours in your furniture and wall decor, and making people feel healthy and inspired. Natural light may have an influence like no other throughout your living areas, whether you use windows, borrowed light from solar tubes extended from your roof into closets, or dark bathrooms.
One of the reasons why people try to develop ways to bring us closer to nature, or nature closer to us, is because of this. Biophilic design is extremely popular, and for a good reason: it's a beautiful and effective way to reconnect with nature. Happy Home Improvement!
Author Bio:
Isha Tandon has worked within the architecture and interior design industry as a flooring consultant expert – specializing in tiles, stones, and terrazzo. She works with Orientbell Limited, a leading tile manufacturer in India, as a product development manager in the design team and has recently joined the marketing team as their digital content expert. Her experience comes in handy in understanding the audience as she creates value-driven functional & informational content for the readers. She creates lifestyle pieces that focus on interior design products, trends, and processes. She loves to travel to historic places with rich architecture.
Related Posts