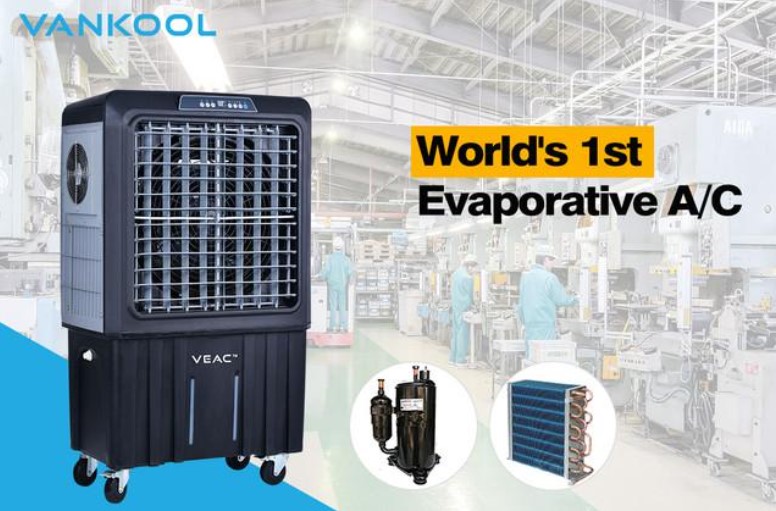 In the quest for energy-efficient and eco-friendly cooling solutions, the Evaporative Air Conditioner emerges as a marvel of engineering. This innovative appliance capitalizes on the age-old principle of evaporative cooling, offering a refreshing alternative to traditional air conditioning systems. In this comprehensive exploration, we dive deep into the workings, advantages, and applications of the Evaporative Air Conditioner.
The Science Behind Evaporative Cooling
Understanding the essence of an Evaporative Air Conditioner begins with grasping the fundamentals of evaporative cooling. At its core, this process harnesses the transformative power of water's phase changes.
As warm air is drawn into the evaporative cooler, it encounters a series of moisture-laden cooling pads. These pads are kept moist through a water reservoir or a continuous water supply. When the hot air passes over these pads, it undergoes a transformation. The warmth from the air triggers the evaporation of water from the pads, causing the air temperature to drop significantly.
This newly cooled air is then distributed into the living space, providing instant relief from the sweltering heat. The process is akin to the natural cooling effect you feel when a breeze carries moisture from a lake or ocean.
Efficiency and Sustainability
One of the standout features of the Evaporative Air Conditioner is its impressive energy efficiency. Unlike traditional air conditioning systems that rely on energy-intensive refrigeration cycles, these coolers use a fraction of the electricity. The primary power consumption is attributed to the fan and water pump, both of which consume significantly less energy compared to compressor-driven air conditioners.
Moreover, the Evaporative Air Conditioner does not rely on harmful refrigerants, making it an environmentally friendly choice. It also operates on the principle of heat exchange with the environment, which means that as outside air is drawn in and cooled, it expels hot air out, helping to refresh and renew indoor air quality.
Advantages of Evaporative Air Conditioners
1. Energy Efficiency
The reduced energy consumption of Evaporative Air Conditioners translates to substantial savings on electricity bills, making them a cost-effective cooling solution in the long run.
2. Eco-Friendly
The absence of ozone-depleting refrigerants and the minimal electricity use make these coolers an eco-conscious choice, reducing the carbon footprint of cooling.
3. Improved Air Quality
The continuous exchange of air ensures that indoor spaces are constantly supplied with fresh air, enhancing indoor air quality by reducing stale and recycled air.
4. Low Maintenance
Evaporative Air Conditioners are relatively low-maintenance devices. Regular cleaning of cooling pads and water reservoirs ensures their optimal performance.
5. Versatility
These coolers are well-suited for dry and arid climates, where humidity levels are low. They add moisture to the air, creating a more comfortable indoor environment.
Applications of Evaporative Air Conditioners
Residential Cooling
In homes, Evaporative Air Conditioners are ideal for cooling individual rooms or smaller living spaces. They are a popular choice for bedrooms, living rooms, and kitchens, providing a welcome respite from the heat.
Commercial Spaces
Many businesses, particularly those in regions with hot climates, rely on Evaporative Air Conditioners to maintain comfortable working conditions for employees and customers alike. They are commonly used in offices, restaurants, retail stores, and warehouses.
Industrial Cooling
In industrial settings, these coolers are employed to regulate temperatures and ensure the comfort and safety of workers. Additionally, they are used to cool machinery and equipment, preventing overheating and costly downtime.
Agricultural and Greenhouse Cooling
Evaporative Air Conditioners play a crucial role in agriculture, particularly in greenhouse cultivation. They help control temperature and humidity levels, creating an optimal environment for plant growth. Farmers also use them for livestock cooling, ensuring the well-being of animals in hot climates.
Event Cooling
Outdoor events, such as festivals, weddings, and sports competitions, often rely on portable Evaporative Air Conditioners to keep attendees cool and comfortable during scorching summer days.
Choosing the Right Evaporative Air Conditioner
When selecting an Evaporative Air Conditioner, several factors should be considered:
1. Climate
These coolers are most effective in dry, arid climates with low humidity levels. They may not provide significant cooling in areas with high humidity.
2. Size and Capacity
The size of the cooler should match the space it's intended to cool. Manufacturers provide guidelines on the cooling capacity of their models, helping buyers choose the right fit.
3. Maintenance Requirements
Consider the ease of maintenance. Some models feature self-cleaning mechanisms, while others may require more manual upkeep.
4. Water Source
Evaluate the availability of a water source. Some units have built-in water reservoirs, while others require a continuous water supply.
Conclusion
The Evaporative Air Conditioner stands as a testament to human ingenuity, harnessing the natural principles of evaporative cooling to create an energy-efficient and environmentally friendly cooling solution. Its benefits, which include lower energy consumption, enhanced air quality, and versatility, make it an attractive option for both residential and commercial spaces.
As the world continues to prioritize sustainability and energy efficiency, the Evaporative Air Conditioner is poised to play an even more significant role in the cooling landscape. Its simplicity, effectiveness, and eco-friendliness make it a compelling choice for those seeking comfort without compromising on their environmental values.
Related Posts