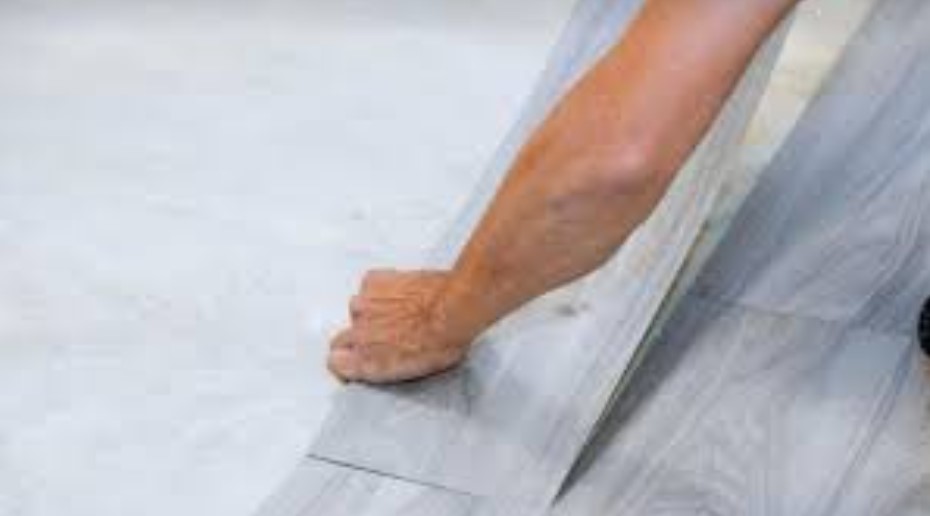 When it comes to choosing the right vinyl flooring thickness, it is important to consider the particular needs of your home or business. There are a variety of thicknesses available to suit the specific requirements of any space. A flooring store will be able to explain the differences between different thicknesses and offer guidance on which thickness would be best for your space. Additionally, they can provide advice on the best tools and techniques for installing vinyl flooring in order to ensure a successful outcome.
How Is Vinyl Flooring Constructed?
Vinyl flooring is a popular choice for many homeowners because of its affordability, low-maintenance requirements, and wide variety of styles and colours. In addition to its attractive appearance, the thickness of vinyl flooring also plays a key role in how well it stands up over time. To make sure you make the best choice for your home, it's important to understand how vinyl flooring is constructed and how the thickness affects its durability. Vinyl is made from two layers, the wear layer and the backing layer.
Understanding Vinyl Flooring Measurements
Vinyl flooring is typically measured in millimetres, though it is also sometimes referred to as "mil" (thousandths of an inch). Vinyl thickness measurements range from 0.25 millimetres up to 6 millimetres or more. While thickness does not necessarily determine the quality of the product, it does have a direct impact on the durability of the floor and how well it will hold up over time. Thicker vinyl tends to be more resistant to scratches, dents, and other types of daily wear and tear.
Factors to Consider When Choosing Your Vinyl Flooring
When choosing the best vinyl flooring thickness for your particular space, it is important to consider your lifestyle and the specific needs of your home or business. If you have children or pets, thicker vinyl flooring is likely a better option as it will be more resistant to scratches and dents. Additionally, if you plan on installing the flooring yourself, keep in mind that thicker vinyl may require special tools to install properly. Finally, consider whether you prefer a softer or firmer look, as the thickness of the vinyl can affect the overall look of the floor.
Types of Vinyl Flooring
There are several different types of vinyl flooring available, each with its own set of benefits. Plank flooring has a natural wood appearance and is available in a variety of thicknesses, while sheet vinyl is thinner and often used in high-traffic areas. Luxury vinyl tile (LVT) offers a more realistic stone or tile look, while luxury vinyl plank (LVP) offers the same look but with a slightly different construction. No matter which type of vinyl you choose, the right thickness will ensure it stands up to everyday wear and tear.
Thicker Vinyl Doesn't Make It More Durable
While thicker vinyl flooring is more resistant to dents and scratches, it doesn't necessarily make it more durable. The wear layer on top of the vinyl is primarily responsible for protecting the floor from damage. For added protection, some vinyl floors come with an additional layer of protective coating. It is important to consider the quality of the wear layer as well as the thickness of the vinyl when making your selection, as this will ensure you get a floor that looks great and lasts for years to come.
How Does the subfloor affect the vinyl thickness?
The subfloor is also an important factor in determining the best vinyl flooring thickness for your space. If you have an uneven or damaged subfloor, a thicker vinyl may be necessary to ensure that the floor is properly supported. Additionally, if you're installing the vinyl over concrete, a thicker vinyl may be necessary to prevent the floor from cracking and becoming damaged over time. To be sure you're choosing the right thickness, it's best to speak to a flooring professional who can assess your needs and recommend the best vinyl flooring thickness for your particular space.
Different vinyl flooring manufacturers may place varying levels of importance on thickness, however it is still an important factor to consider when selecting vinyl flooring. Thicker vinyl tends to be more durable and is better suited for high-traffic areas. Thinner vinyl is ideal for low-traffic areas or for areas that require a softer, more comfortable feel. Ultimately, the right thickness of vinyl flooring depends on the specific needs of the individual space and the lifestyle of the occupants.
For high-traffic areas, we recommend choosing a thicker vinyl floor as it will provide more stability, comfort and support. Additionally, thicker vinyl floors are less likely to be damaged by daily foot traffic and more resistant to scratches and dents. By taking the time to consider the thickness of your vinyl flooring, you can be sure that you're making the right choice for your home or business.
Related Posts