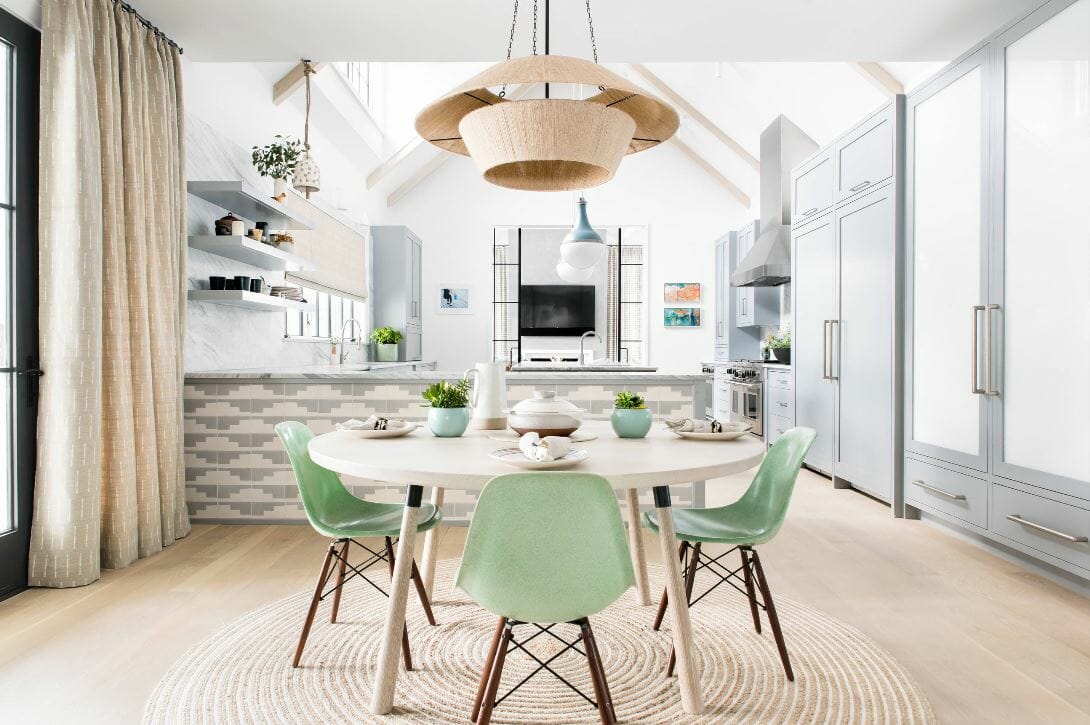 If you're entertaining the thought of redesigning a room or your entire house, just wait until you learn the latest trends in interior design.  Especially if you are redoing your home for the purpose of selling, it's wise to be on the up-and-up about what's hot and… what's not.
Comfy and Cozy Decor
Gone are the days where home décor was just for looks and nothing else.  Today's trending home fashions are centered around comfort and coziness.  Warm, earthy tones are making their way back in style but this time in a whole new, very welcoming way.  Vintage pieces and soft, snuggly fabrics such as carpet flooring are the latest thing.
Being comfy and feeling at home is all the rage, partially because for the past year or so, that's where people have spent a lot of time.
Fashion Forward Function
Function is also in fashion.  The same throw pillows and blankets that add color to the room are used for lounging.  Multi-functional spots are big too.  After all, why should a nook just be for decoration when it can house family games and serve as a spot for kids to do homework and parents to work remotely?
If the Walls Could Talk
If the walls could talk, they would tell the tale of families – playing together, working together, and learning how to live a whole new normal.  Well, they can and they do when you paint them in the neutrals that are so popular now.
Grays, tans, beige, and creams allow homeowners to relax and not get overwhelmed with bold colors when sticking around the house more than they used to.  A red-walled room is one thing when your home is a landing pad but when it's where you spend much of your days and nights, it is just too much but a terracotta painted room is much more soothing. That's the reasoning behind the natural trend towards neutrals in paint.
Another wall fashion that's taking hold is to do a wall (or two or four) in a non-invasive texture such as shiplap.  This type of wall design adds interest without being too much. It is perfect for adding a comfortable, rustic touch.
Setting the Mood
The way in which a room or entire home is decorated should set a mood, any mood you chose for it to set.  The trending moods are bespoke, personal, and vintage. From cozy nights with the family curled up beside the fireplace to monogramed cup towels and 1940s furniture, the atmosphere revolves around the people who live and visit there…just as it should be.
If you have a favorite blanket or chair that you weren't able to use in years gone by because it didn't match your décor, bring it on out.  Anything goes now.  If you love it…it belongs.
Get excited because this coming year, you are going to see more good things in home fashions and they are all warm and welcoming.  No more "touch me not" fancy displays.  Today's home decorating and fashions beg to be lived in.