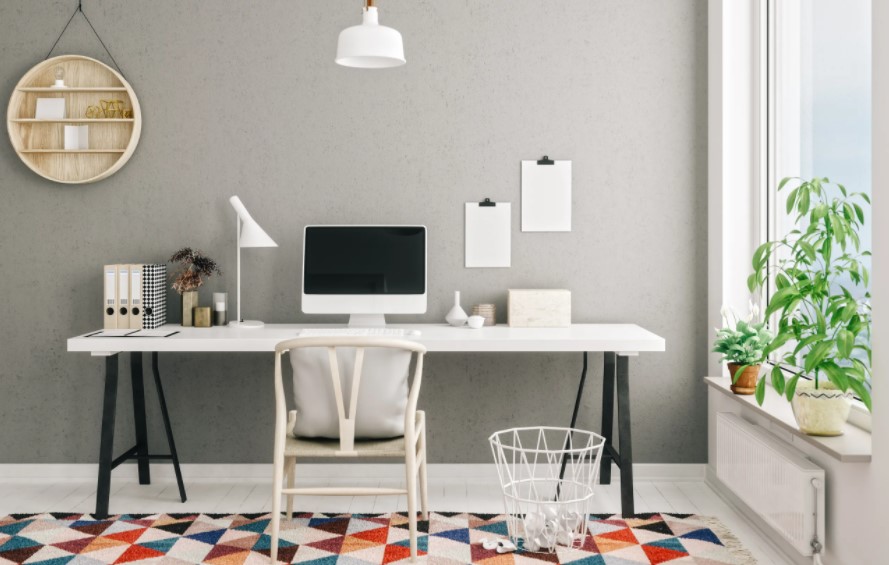 If you roll out of bed, start checking your emails in pajamas and take your first meeting as you remember you're not wearing pants, then yup, you're still working from home. Got that work from home schedule all worked out?
Is your home office a place you enjoy sitting from 9 to 5, and then again from 9 to 10 pm? (not a joke) You're probably still learning how to set up a home office, or at least, a peaceful and inspiring place in your home where you can work.
Whether you have a new remote job, a job that 'went remote' or are looking for a remote job, you're at the right place!
Your home office should be more than a spot on the couch where your WiFi is strong. Maybe you're going to try to emulate coworking space vibes or simply try to forget you're working in your studio apartment with your plants, or with your significant other.
A home office should be conducive to getting work done and should be a place where you feel inspired, focused and motivated. Minimalist work from home office setup in a small apartment with a laptop on a laptop stand, exposed brick wall and ergonomic office chair MacBook Pro on a black laptop stand and wireless white keyboard part of home office setup.
This is much easier said than done, as you may have never in a thousand years pictured that you may need to set up a desk in your living room, or carve out a corner of your bedroom to be a workspace, in order to work from home productively. Work is changing all the time, as are what companies need and what companies want. What you need and what you want is also changing all the time as well, which is why adapting is such a great skill.
During your continued transition of making your home office better and better, you can avoid one of the most common mistakes when starting to work from home by choosing to actively set up your home office space.
I never in a million years saw myself as the type of person who'd wind up working from home permanently. I started working remotely while traveling, and it was a bit different because I hardly had to set anything up. I worked from coworking spaces around the world, and got my first taste of learning that you need a conducive working environment the first time I took a company meeting from the bedroom of an AirBnB in Porto, Portugal only to find out that the WiFi didn't completely reach my location.
These days, I have ditched my former 4 pm spot on the couch (I call it my 'weekend office'), and I work from a designated desk in our apartment that I've given proper workspiration elements. I make sure to follow all the rules of sharing an office space with my partner, Dan, when we're working from home at the same time. How hard is it to set up a home office, especially in Houston apartments?
That probably depends on who you ask. For anyone who has a vision for this, the answer is, "easy." If you reside in one bedroom of a four-bedroom Manhattan or San Francisco apartment and live with a revolving door of roommates, the answer might be: "a dab more challenging."
So, how can you set up a home office that's both comfortable and conducive to a productive schedule? The key is in your products and your home office setup. If you think you can sit down at your dining room table with your laptop and charger and you'll be ready to go, you could be doing yourself a favor by working remotely from home in a much more comfortable way. As a home office should be a place where you feel both focused and motivated, consider that a few more handy items make the journey much more comfortable.
Get a laptop stand to create a work setup you're used to. We use the adjustable and portable Roost Laptop Stand as our work-from-home favorite. It's fully collapsible, has a universal fit for all MacBook and PC models and finally, can give you a 'lift' between 6 and 12 inches.
For times when we want to work remotely while traveling, we fold up our laptop stands and put them right into our luggage. A less expensive alternative to the Roost Laptop Stand is the Nexstand. I've used this one as well, and it's definitely lightweight and affordable for a laptop stand.
The downside is that it's less sturdy than the Roost. This laptop stand is great for people who don't want to crane their neck too far down or up, depending on the height of the surface at which you're set up. We think it's a great choice for working remotely from home. 
Find a wireless mouse you actually want to use. Personally, I'm a fan of wireless mice. It also has a speed-adaptive scroll wheel and a unique thumb wheel in its build. Lastly, you can use it for cross-computer control, navigating on up to three monitors. Buy a wireless keyboard that makes typing feel great.
We like the Apple Magic Keyboard. It's great for us when we travel and it's convenient for our home office. We can easily stash it away when we're not using it. It's a Bluetooth rechargeable keyboard and it lets you type quietly. It's a lot like a laptop keyboard in that it takes up hardly any space.
Pick a desk or writing table that's an appropriate height for you. We mentioned in our article about how to start working from home that your designated office room or area will determine how big of a desk you can get.  The right one can make a small apartment feel more spacious.
If you're not happy with your kitchen counter or dining room table as your home office desk (and you most certainly should not be!), check out a writing table like this minimalist white work desk. We got a similar one recently. Right now, I'm using a cute desk like this white and wood minimalist laptop desk. It was important to me, when choosing a desk for my home office, to have a desk with drawers. This sleek home office desk is also a great choice if you'd like something trendy and attractive for your bedroom, living room, den or dedicated office space at home. If you're sold on working from bed, at least do yourself a favor and invest in a laptop table for working from bed! Choose an ergonomic chair that won't give you back pain. The amount of space you have, and the desk or table you're using, will determine what kind of chair you can get. For a chair with wheels, we like something like this ergonomic desk chair and if you're feeling more wild and want to lose the wheels, we considered getting this patterned chair for home office use. If you have the budget and are looking to make an investment, consider Herman Miller. It's one of the best chairs that you can buy, but it's very expensive. One interesting quirk with our apartment is that we have uneven floors. Luckily, we figured out a way to stop our chair from rolling on the uneven floors! Make sure that your chair: Is the right size for you (if you're very tall, or short, for example, then do some research) Is padded, rather than plastic or wood, for comfort during an entire workday Has wheels, if you're used to this from your 'real office' Fits with your room aesthetic so that your home office design makes you happy Fits under the desk surface when it's pushed in, or else it may cause space issues (we had a mishap with this one) Keep your legs at a 90-degree angle. Lumbar support (spine alignment) is the most important thing to keep in mind. Your back shouldn't be twisted or feel uneven. You need ergonomic arm rests; even if you're using a laptop, stack up some books to bring the laptop to eye level (or use the Roost). Order noise-cancelling headphones to block out noise and focus. Dan uses his Sony Bluetooth wireless noise-cancelling headphones to take meetings while working at home, in order to keep distractions for me to a minimum. So thoughtful! He loves these headphones to get into a deep work focus. When we're on the road, those headphones are one of his favorite travel things to pack because they drown out noise when we're on a plane, train or bus. Crucial. When we're working from home as a couple, Dan will use his noise-cancelling headphones to block out my voice, if I'm the one on a phone call. Opt for a second monitor or iPad. Dan found a way to start using an iPad as a second monitor so that he can work from home with a two-monitor set-up. Having two monitors may be something you're used to at work. It may be a set-up that you need to recreate at home in order to feel efficient. Set up your iPad monitor with this small and simple iPad holder that barely takes up any space. It's also travel-sized. If you use an iPad as a second monitor, guess what: you can use it as an iPad later, or within the same day! After Dan's work is done, we "watch TV" on the iPad (but really, we're watching YouTube cooking shows). Treat yourself to a strong mini Bluetooth speaker. Our pick is the JBL FLIP Portable Bluetooth Speaker and we like it because it charges quickly and it's small enough to sit on a table, ottoman or counter-top. We found that it has some of the best audio quality and deep bass from other speakers that we've tried in the past. It has a sound that fills our apartment, so when we're working from home (or entertaining friends), we put on some jazz or salsa (have you ever tried 'working to salsa'? It's the best) and it sounds great. Update: we just upgraded, and now we have the JBL Flip 4 Bluetooth speaker. It's a dab bigger than the Flip 3, and comes with a cool carrying cord. Consider a place mat or laptop case to keep your laptop from sliding. We use a few gray place mats, which are durable and perfect to use as surface cover in an office. They also double as our eating placemats! I also tend to use a laptop case as a soft base for my laptop. This felt laptop sleeve we recommend is compatible for 13'' MacBook and PC laptops, like my Dell XPS 13. It's made of felt, so it's soft and the gray color matches mostly anything. When it's not being used on a table, I use this case for transporting my laptop to cafes or other places that I am working from. Exposed brick wall in a living room with a home office desk, silver laptop on a black laptop stand, white wireless keyboard, wireless mouse and black bluetooth headphones.
Related Posts