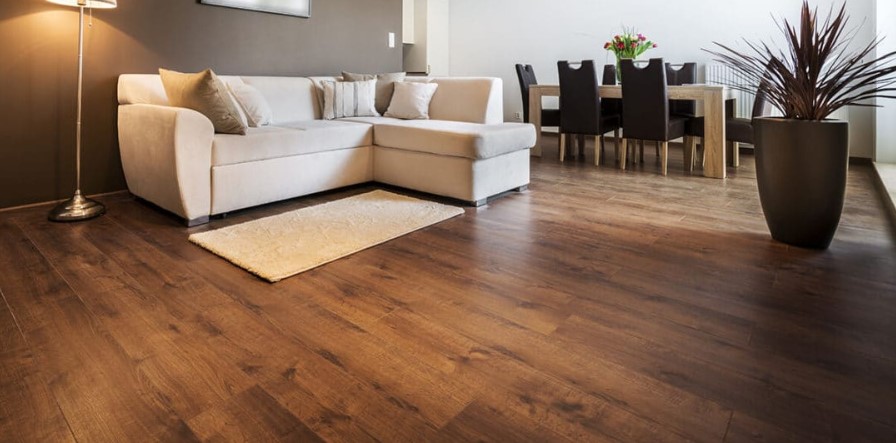 There are simply too many different types of flooring available, and many people are unsure what to buy when it comes time to replace their old floors with something new and modern. What is the most durable type of flooring? Choosing between different types of wood, vinyl, laminates, glass floors, cork, concrete, and tiles can be extremely difficult. Below there are several types of floors that might be a reference for you.
Vinyl Flooring
Many people who are on a tight budget will opt for vinyl flooring. It is a long-lasting and popular flooring option. It is composed of a variety of vinyl resins and additives such as pigments, fillers, stabilizers, and plasticizers. It also contains PVC, which is why it is sometimes referred to as PVC flooring. Vinyl is available in sheet or tile form, and one of the nice things about it is that the many colors, styles, and textures that it can recreate allow you to practically create an infinite number of looks. It is quite comfortable with good noise insulation, and if any damage occurs, it is quite simple and inexpensive to repair.
Timber Flooring
There are numerous types of timber flooring, many of which are well-known in their own right. Floating floors are simply installed on top of existing flooring. They are constructed from soft or hardwood glued to fiberboard. They are either pre-coated or can be coated after installation. One example is laminate flooring, which is very popular among many people. One disadvantage of this flooring type is that it cannot be used in wet areas such as bathrooms or verandas when it rains.
Palmwood flooring is another type of timber flooring made from coconut palms. It has real wood flooring boards. There is no lamination here. When it comes to hardwood, this is a very stable and sturdy option.
Cork Flooring
Cork flooring is quite environmentally friendly, so if you care about the environment, this is the one for you. There are numerous cork tile designs to choose from, such as a country look, a patterned look, or a simple, natural look. This floor can be used safely in both dry and wet areas, and it is not only environmentally friendly but also hygienic because it does not cause allergies. Because cork is insulating, it is ideal for use both in the winter and in the summer, as it reflects heat and does not absorb it. It is an excellent acoustic insulator due to its insulation properties.
Glass Flooring
Glass flooring is a new, modern flooring option that can be used almost anywhere, from interior floors to pathways, decks, and driveways. If it is installed outside, it must be customized to support the weight of the car. Another advantage of using this type of floor is that it appears to increase the light in the house, making your room or space much brighter.
These are just a few of the options available to homeowners who want to re-floor their homes. There are many more, but these are quite popular and have made many homeowners happy to have them in and around their homes.
Related Posts