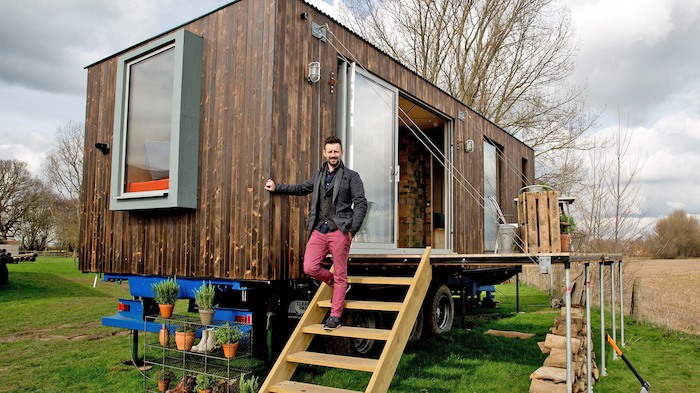 As more people discover that camping doesn't have to mean being uncomfortable, cooking the hard way or staying dirty, Portable Cabins are the most popular choice these days. However, not all of them end up in the woods, or lakeside somewhere. Another reason for their popularity is much more practical, they provide affordable shelter in an economy that makes homeownership an impossible dream for some of us.
Why Not Just Build a Little House?
Other than walking room, there isn't much a full-size house has that these little cabins don't except maybe a scary mortgage. Another huge plus is their mobility. If you built a house the size of one of these cabins, the county would call it a "permanent structure" and then there would be permits to buy, building inspections to deal with and the list goes on.
Unless of course, you decided to buy a "portable" building because then none of the above applies. Most are deliverable ready to use, and even though after set-up it may never move again it's still considered a mobile no matter how long it sits there.
Before you order or think very much about the design you'd like it's a good idea to make sure your choice of cabin is going to be compatible with its surroundings. There are times the actual design could depend on property lines, trees you want to keep etc. The best way to avoid any delivery day problems is ask your contractor to study the site and make sure what you order is going to work in the area you want it placed.
Are They Really That Comfortable and Sturdy?
Portable buildings don't have tail lights. They are framed and finished the same as any permanent structure with a cement foundation, the only difference being is if you decide you don't like the neighborhood they are much easier to move. Not to insult campers, but the most well-built of them don't really compare to the modern solidity of one of these cabins. Think about it, campers are made of mostly lightweight metals, and cabins come from durable wood.
Trailers and cabins have about the same insulation, but you can bet someone sitting out a snow storm in a wooden cabin is going to be a lot more comfortable than anyone caught in the same storm with a metal trailer. Designed to be lived in during the worst of weather, for the off-grid life or simply a place to escape city stress, you can't do better than your own little cabin.
It doesn't really matter what you'll be doing with a new cabin. As a secret retreat or primary residence, they make sense on so many levels. Some have even bought them to use as "man caves" or mother-in-law cottages for growing families who need more room in the main residence. Normally, very little needs to be done once delivery is made. Park it, hook up all utilities, and then step inside a cabin that's ready to be lived in.