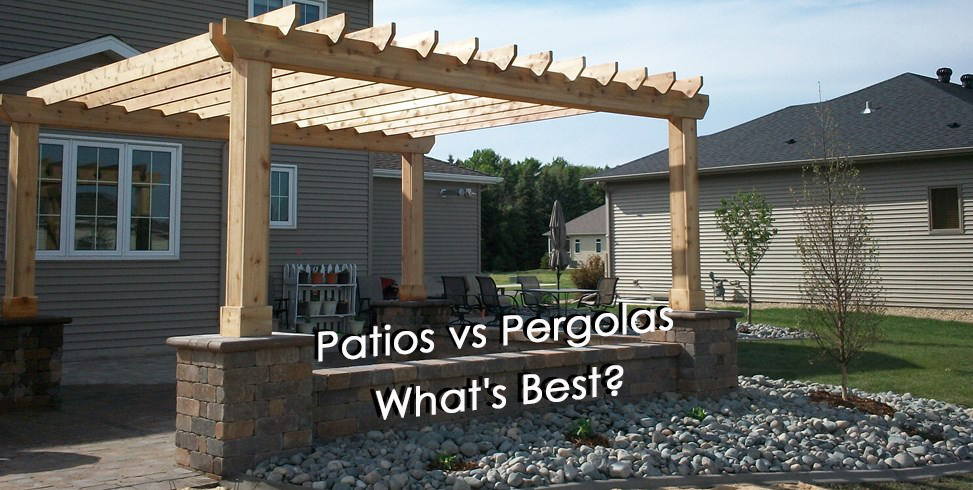 You might have heard about how you can make the most of your outside space and garden with a pergola, but what exactly is a pergola? And what makes it so different from its more famous cousin, the patio?
Before you go running for the dictionary or garden encyclopaedia, take a look at our handy guide below. We've outlined the differences between these two impressive garden features, and explained exactly how each one could really bring out the best in your garden or outdoor area.
Patios
A patio is perfect for extending your valuable living space into your outdoor or garden area. These classic garden features can trace their roots back to when the Moorish rulers of Andalusia in modern-day Spain first began experimenting with decorative courtyards for their villas and palaces.
You can enhance the enjoyment you receive from your patio by adding small planting troughs to give the space some colour, trellis with climbing plants on an adjoining wall, or by including some garden furniture to make the patio more usable and versatile.
Transform your outdoor space
Sydney's sunny climate makes a patio more than just important; it makes it a necessity! Your garden can be transformed from a pleasant outdoor space to an extra room ready and waiting for use all year round. Can you imagine having friends over on a glorious sunny day without a patio? Exactly, you can't!
Patios in Sydney  are great for:
Giving a more spacious feel to smaller houses with an extra 'outdoor room.'
Hosting sunny garden gatherings to shield you from the elements; rain, hail or shine
Adding value to your home
The primary difference between a pergola and a patio is in its purpose. A patio is typically designed to expand the usable space of your home, changing your outdoor space or garden into an additional room. Whereas a pergola is designed to be an enhancing feature of the garden making it more versatile.
Pergolas
Traditionally these structures are ornamental and intended to improve the aesthetics of the garden area. Pergolas are often free-standing, although they may also be attached to the wall of the property or another structure. Modern pergolas from Sunscreen Patios & Pergolas Sydney can be made of wood, metal or polycarbonate plastics. Pergolas are dynamic and versatile structures which can be made as enclosed or opened as you want them to be.
Accessorise with colour
You can add some colour to your pergola with flowering plants, use some garden furniture and experiment with different wood stains to create an outdoor space which is as aesthetically pleasing as it is practical.
A pergola is a genuinely great way to extend your living space and to get the most out of your outdoor or garden area.
Pergolas in Sydney are great for:
Adding privacy to gardens that are overlooked by other properties
Making your outdoor space more dynamic and varied
Adding a touch of personalised style to your outdoor area or garden
Related Posts